Oh Fall, how we love thee. This trip is a fall inspired adventure getaway and one of our favorite destinations to enjoy as the leaves begin to change and the air turns crisp. If scheduled in November, you might even get lucky and enjoy a snow flurry or two (as we did on our last trip)! I am taking you to (drum roll please) …
Banner Elk, North Carolina. It's quaint, lovely, pristine and offers a perfect fall backdrop for your autumn escape.
Downtown Main St has charming shops, delicious restaurants, and that small town America vibe we all love. Our favorite activity in Banner Elk was the Wilderness Alpine Roller Coaster. This was a huge hit for adults and kids, and we rode multiple times. You'll want to schedule your timed rides in advance to ensure availability. It was an absolute blast. They also had a pretty legit adventure course that was closed while we were there, but we'll check it out next time.  
We stayed in nearby Boone, where we have been several times and love it each and every time. We rented a beautiful condo overlooking the mountains through Foscoe Rentals. Our condo was at the tippity top and the accommodations and view could not have been any better.  
Boone is a wonderful town to explore, the downtown area is especially delightful with one of our favorite spots being the Mast General Store. It is a treasure trove of candies, cheeses, decadent treats, souvenirs, old-timey toys, and countless unique items to bring home from your travels. We usually swing by here a few times and the kids love spending their time (and money) digging through all the unique and tasty items.
One thing we always must do when staying in this area is mine for gems, it's just one of those touristy things we can't avoid. And I secretly enjoy it too, not just the kiddos. They have quite the extensive (and pretty dang beautiful) rock & gem collection from these experiences. There are several to choose from in the area, but we hit up Doc's rock gem mine. If you have littles, you'll want to add this to your list.
A pleasant curve ball on our trip was going to Mystery Hill in the nearby town of Blowing Rock. We didn't plan on it, hadn't even heard of it but found a brochure for it in our rental and thought we'd check it out. And it was quite cool! They have some interesting stories they'll tell you about this weird hill and how gravity somehow works backwards, apples rolling up hill instead of down, and there's even a room that will completely stump you- where balls are rolling up the slant instead of down, a swing swings backward but not forward- it's a trip!
They also had a bull riding machine we had some giggles on, some impressive Native American artifacts, a huge gift shop, and just overall some interesting and interactive experiences. It ended up being a highlight of the trip and I think we'll always remember that trippy room.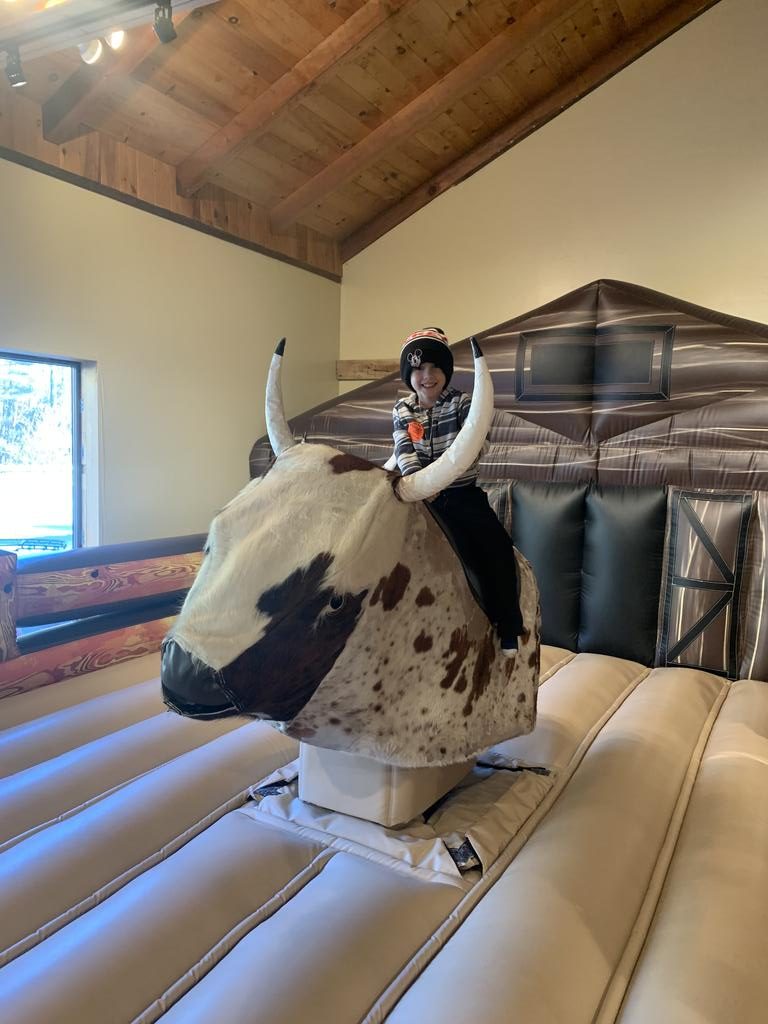 Also located in Blowing Rock, we visited the Linville Caverns and did some cave exploring. This is something we commonly seek out and we love comparing the different caves around the US and the world that we visit. We really enjoyed these caverns; it was a good length tour, and the caves had some impressive formations to enjoy. And of course, a decent gift shop with some beautiful crystals to buy- always a favorite for the kids. Not far from Linville Caverns, you'll find Linville Falls- a serene hike with a breathtaking waterfall. The hike itself is an easy and kid-friendly trek and you can certainly squeeze it into your day.
We didn't go out to eat much, mostly cooking in our rental or grabbing quick bites here and there since we packed so much in, but one honorable mention was The Speckled Trout in Blowing Rock, it was absolutely delicious, they had some yummy and unique menu items (try the cheese curds and deviled eggs), great beer and drink options (try the "Big Chocolate Porter"). They even had a couple of gluten free beer options, which was greatly appreciated by yours truly. Everyone left happy and full. Highly recommend, 5 out of 5 stars for us.
And then, of course, there's Blowing Rock– like the actual rock. It's a beautiful spot with several hikes you can take. The views are breathtaking, and the legend of the rock is amazing. Take a few minutes and read about it. Pretty remarkable…and sad. Like all good legends. Don't miss this- if you're in the area, make this stop a priority. Sublime is the perfect word for it. I could have spent hours there taking in the stunning views.
And finally, a day trip to Grandfather Mountain should be at the top of your list. You can truly spend all day here. There are numerous paths, trails, hikes and scenic drives (synced to CDs they will provide to you). There are animal and nature exhibits where you can watch bears, cougars bald eagles, otters and elk up close! If you're feeling brave, cross the swinging bridge- it's a great experience, but don't look down! Or do. Whatever you prefer, don't let me tell you what to do.  
You can also find picnic areas galore, and I recommend packing a cooler and having yourselves a lovely picnic in a nook somewhere along the drive. And if not, there are plenty of places to grab a bite or snack inside the park. Along the drive you'll find many spots where you can get out and view various viewpoints of mountain ranges, take some pics and just take in that beautiful scenery with some deep breaths. And of course, partake in a solid photo bomb. Thanks grandpa.
So, get out there, enjoy the changing seasons and the cooler air, the vibrant golden colors, and find yourselves an autumn escape. I hope to see you out there!
10 things to pack for your autumn North Carolina getaway:
Warm jacket that you can move in, especially if hiking is on your agenda.
Comfortable boots, I cannot emphasize comfortable enough, if you plan to do a lot of walking and hiking. Which you should. Because it's awesome.
Warm socks, especially for those cold nights. You don't want cold feet! I even recommend packing some slippers or warm thick socks for nighttime.
Beanies or earmuffs. The temperatures drop at night and your ears will freeze. It's also very windy on the top of those mountains.
First aid kit. We had several bumps and scrapes along the way on our hikes, our first aid kit came in handy!
A good backpack for day trips and hikes, to carry water bottles and snacks. Scout out your hikes in advance to see how long they are and pack accordingly.
A cooler bag, or backpack with cooler. We found our travel cooler came in very handy for keeping our waters cold on our day trips and sandwiches fresh for lunches on the go.
Jeans and stretchy pants. Whichever you find more comfortable on hikes, but if you're going with yoga pants- be sure you find some nice, insulated ones to keep you warm.
A good camera. The scenery is divine, and you'll want to capture it.
And finally, layers. Pack a few light t shirts in addition to long sleeve UPF style shirts, sweatshirts, hoodies, etc. We found ourselves constantly layering up and down as the sun rose and fell and the temperatures fluctuated.