Okay, full disclosure- coming off a blog about Steamboat Springs and transitioning to Okemo is a lot like hopping on It's a Small World right after getting off Space Mountain. So, for this blog we're going to be coming down off the high of Steamboat, to a more relaxed, quaint, and simpler trip to Okemo Mountain, Vermont. Both rides are still thrilling in their own ways and Vermont offered us a slower paced, more relaxed but still exhilarating and gorgeous experience.
If you live on the east coast, don't have a ton of experience on the slopes or a lot of days to spend flying west, or if you're travelling with kids, I highly recommend Okemo Mountain. It's a quick and easy trip, flights were non-stop and much more reasonable than flying west. We flew from Jacksonville non-stop to Boston and then rented a car to drive the two hours north to Okemo. We enjoy flying into Boston because it's one of our favorite cities, so we always spend a day or two there.
We rented an adorable cabin in the nearby town of Plymouth, Vermont. It was set up great for multiple families & kids with a basement for the kiddos to hang while the adults could sit upstairs by the fire and enjoy our wine in (somewhat) peace. You can also stay right at the mountain, but we tend to like to rent a vehicle (you'll need 4×4) and rent a place with space to spread out and gather.
We found some great hills to sled down near our rental, it's always good to ask some locals where the sledding spots are, this tends to always be one of the highlights of our snow trips, and it's free! We brought our portable sled (that I mentioned in the previous post) and also used some tubes.
We also hit up the Okemo snowtubing park and it was pretty okay. I mean it was great, really. It just wasn't tubing in Colorado- that was next level. But it was still very fun, the kids especially enjoyed it and the adults were mostly just bummed that they were strict about safety and rules and all that important stuff that keeps us safe…blah blah blah. But it's still worth it- do it.
One morning we headed over to Killington for a snowmobile tour and it was pretty fun. We ran a solid trail with some sharp turns and fun hills and drops, and the guides were super friendly. We did the two-hour trip which was plenty for this trail. We didn't get to run in open fields like in Colorado and really open up the snowmobile, but it was still a good time.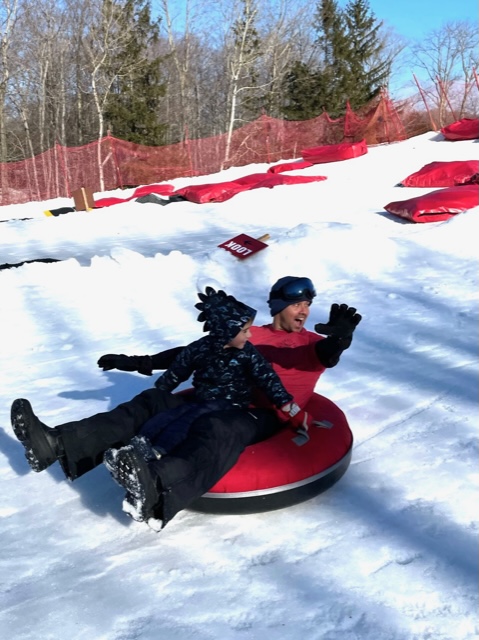 Now for the meat and potatoes of the trip- the mountain. Okemo was a lot of fun, had good runs and we lucked out with fresh powder both days we bought lift tickets for (way in advance, don't forget to always book your lift tickets ahead of time.) We checked out Killington mountain as well, and it looked super fun but it seemed much, much more crowded than Okemo. There were enough variety of trails to keep our skiers and snowboarders happy and we tried to get there right when the lifts opened. I highly recommend getting there bright and early for that fresh powder and smaller crowds. At about noon, everything is packed. They didn't have night skiing like in Colorado which was a bummer, but we sufficiently wore ourselves out during the day.
You can rent gear right there at the mountain, but we booked our equipment at the nearby Totem Pole Ski Shop in Ludlow and saved ourselves a little money. I recommend getting your gear the evening before your run, if you try going in the morning- be prepared to wait. A while.
There are also adorable shops all over Vermont and delicious little restaurants, bakeries, and cafes. We did find Killington expensive- especially around the mountain resort. My kid ordered a $20 kraft mac n cheese at a lunch spot we stopped at. So that was…annoying. But Ludlow was much more reasonable. We grabbed a bite at The Killarney Irish Pub in Ludlow, and it was super good, everyone was happy, and we didn't leave bankrupt. So, if you're looking for dining spots that aren't overpriced and packed, I recommend driving to Ludlow.
We got most of our supplies and groceries at Shaw's in Ludlow and they had everything we needed to make yummy and easy meals right at our rental. With a larger group, this is the way to go. We may have gone overboard with the snacks, but our troop was well fed for the entire trip and after long days in the cold, it was nice to come back to the cabin, shake out our gear, light a fire and eat dinner together in our comfy clothes.
Honestly, some of our most enjoyable moments were just hanging out in the snow. We brought snowball makers in our suitcases and the younger kids had a blast making stacks and stacks of snowballs while the older kids launched their attacks. We built snowmen, did a ton of sledding, sat by the fire, and explored the snow-covered paths in our snow boots. Sometimes adventure and enjoyment can be found in even the simplest of activities.
Vermont was so very charming, it won me over and gave me all the warm and fuzzies. I am itching to go back during the fall next time. The winding roads, friendly people, adorable homes, and multitude of cute bridges and shops made this trip truly feel like a vacation.
10 things to pack for your serene (but also adventurous) Vermont vacation to Okemo:
Snow boots & boot warmers to help keep your toes warm.
Snow jackets.
Gloves/Socks/Beanies/Face Coverings/Mittens, you'll need snow gloves and mittens or sleeker gloves for just walking around. We've got some great Sublime Rides beanies on our site so check them out.
Goggles, you can rent goggles at most slopes but I recommend just buying your own.
Portable sled, I mentioned this in my Steamboat post, and we use ours for every snow trip!
Snowball makers, the kids loved having these and spent hours making snowballs. Click HERE to check them out. (We also use these at the beach!)
Snow pants, for snowboarding, skiing, sledding, tubing & snowmobiling- you'll wear these basically every day.  
Portable games & cards, we had such a great time as a family sitting by the fire at night, having hot cocoa & wine and playing games while the snow fell outside. Check to see if your rental has provided games and if not, pack some of your own.
Waterproof camera/phone case, now that we've done a few of these snow trips, I've realized how WET they are, and you'll want to take lots of video so bring something along that can be dropped in the snow without a worry.
Proper long johns, it's so much more comfortable (and warmer) wearing long johns under your ski gear than trying to wear your bulky pants and shirts. Be sure to check the weather though because if it's a warmer day- you'll be too hot in long johns!